SACRAMENTO – Assemblymember Dawn Addis (D-Morro Bay) this week commemorated the historic inaugural U.S. Women's Open at Pebble Beach by presenting a state resolution to honor the talent, determination, and competitive spirit of professional women golfers from around the world.
This year marks the first time in the golf tournament's 78-year history that the famed Monterey Peninsula course has hosted this event.
"The U.S. Women's Open at Pebble Beach is inspiring," Addis said. "Women are breaking barriers and setting examples for all who are entering the world of sports. I applaud the players and organizers for bringing this important event to the Monterey Peninsula for the first time in this tournament's history, and I'm proud it will continue into the future."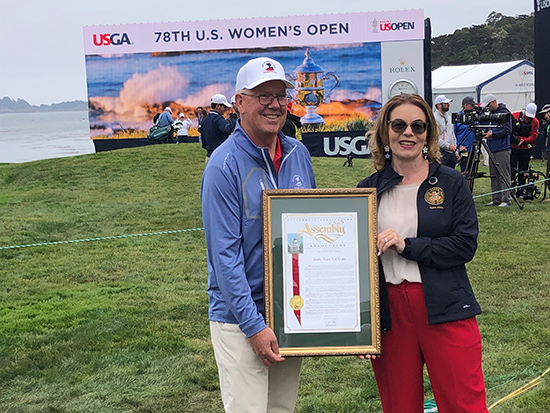 Assemblymember Addis with David Stivers, CEO of Pebble Beach Golf Links
The event was also commemorated by an all-women U.S. Navy flyover to mark not only the historic nature of the tournament, but also the 50-year anniversary of female aviators in the Navy.
Addis, a member of the California Legislative Women's Caucus, co-founded the Women's March in San Luis Obispo and was a Planned Parenthood Central Coast Action Fund board member.
Renowned for its breathtaking coastal views and challenging layout, Pebble Beach Golf Links has hosted the men's U.S. Open six times – the most of any other course over the last 50 years. This weekend's tournament runs from today, Thurs, July 6 through Sunday, July 9.
Dawn Addis was elected to the California State Assembly in 2022 to represent the coastal 30th Assembly District, which includes large portions of San Luis Obispo and Monterey Counties and the south-eastern area of Santa Cruz County.
CONTACT: Jim Evans, 916-319-2030